I call a contractor to fix my garbage disposal.  His recommendation is to replace the old one. The old one is as old as the house, so I authorize the work. It doesn't take him long, and I love the view.  Enjoy watching him work. His butt is really sexy in his jeans. As I am writing him a check, I notice him checking me out, admiring my ample curves. I hand him the check, and I feel this electric sexual tension between us. 
After only a week, the new garbage disposal stops working. Very frustrating that it breaks so quickly. The contractor's office girl is less than sympathetic to my situation. Lucky for me, the contractor learns of the issue,  he calls me and promises to stop by that evening after his scheduled appointments. I thank him. I start fantasizing about him naked. Late afternoon, I take a bath and do my make-up. I put on a skirt and tight top. Greet him with a big smile as I open the door. He likes the way I look. I can see it in his eyes. That sexual tension has returned.
I watch him working in the kitchen with his butt pointed to me. I want to run my hands all over his ass. Oh, I realize that I am holding my breath and my pussy is throbbing for some his attention. I suspect that he feels the same way. He appears to be in no rush tonight. He is flirty and chatty which only gets me even more turned on. 
When he is finished, he asks if I am in a hurry to get somewhere. I shake my head, nowhere to be tonight. I put my hand on his hip and look deep into his eyes.  He pulls me into him, and we kiss. A deep passionate kiss. We start to head to the bedroom but make it as far as the sofa. Our clothes off, him sitting back on the sofa, my lips kissing and my mouth sucking him. Oh what an exciting night of intense pleasure this is going to be.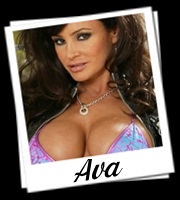 Written By: Auntie Ava
Call  Ava @ 1-888-716-5587
Message on AIM- hotmilfava