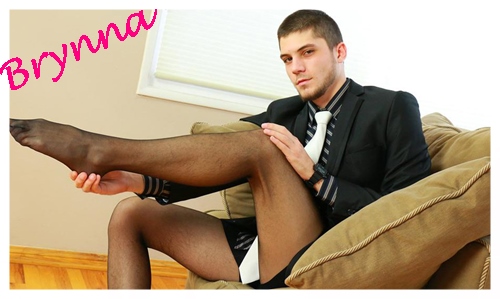 I had the maintenance man here in my townhouse to repair the dryer and the downstairs bathroom sink. To keep us both safe, I wore my mask when I opened the door. I took him to the washer and dryer and showed him the sink. After that, I headed upstairs so I could talk dirty to you sexy guys.
I was talking to a guy with a pantyhose fetish, masturbating, of course. I remembered there was a pair of black sexy Wolfords hanging in the bathroom. My boyfriend had cum all over them on our last date, so I hand-washed them and hung them to dry. There was a black bra hanging on that doorknob. I had taken it off and left it there. I was hoping that turned-on my maintenance man, and he was hard looking at my sexy things.
I went downstairs, and he was masturbating with them my pantyhose and rubbing my lacy bra against his face. It was super exciting that I caught him being naughty. I snapped a photo of him and blackmailed him. If he didn't do exactly what I said, I threatened to send the picture to his boss at the rental office. He begged and pleaded, promised me anything.
I made him strip and put on the pantyhose, and I finished dressing him. Forced feminization, head to toe, including pretty red lipstick. I showed him mercy and let him masturbate and cum in my pantyhose. As one would expect, he didn't last long, and there was such a big load of cum. I snapped another photo of him and posted it here! Everyone in town could see it! So humiliating for him to know I have exposed him and his secret fetish.
If you have a sexy pantyhose fetish, we should play soon!
Call Brynna @ 1-866-511-5538
Email- badbrynna@gmail.com