Does my huge rubber cock excite you to the point you feel your panties getting wet? Bend over sissy, and let me show you what a dominate strap-on mistress I really am. I have very powerful thrusting hips and the more my sissy whimpers, the harder I pound that man pussy of yours.
10 inches never looked so good on me. Yep, you heard me…..10! Mistress Monique doesn't mess around when it comes to making ordinary men into cock loving fags. Once you've had 10 inches, there's no going backwards.
Next you would gradate to the real thing and my sexy black studs cannot wait to pull your panties to the side with their big, muscular hands and stretch you real good.  Don't worry, I'll be right there comforting you by sliding my strap-on down your throat while you get a heavy load of creamy cum in your pussy.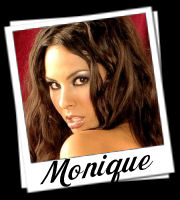 Written By: Monique
Call Monique @ 1-877-749-2847
Email: call4monique@aol.com