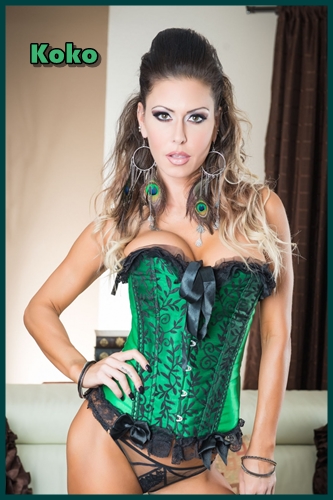 I have trained you well. You are my obedient and beloved submissive. Time for us to play. I left a little pair of pink panties for you to wear. Love that shade on you. Makes it look like you have a little pink pussy. 
Time for a session, my pretty little bitch! 
Bend over and show me your sweet ass. Show off for me. I grab you and hold you still. I tenderly caress your cheeks until you feel that first sharp, intense sting. Feel my hand spanking those cheeks of yours and making them hot and red.  Beg for more. "Harder, Mistress Koko, Harder." 
After your spanking, I push your pink thong to the side. Not a hair between your legs. Soft and smooth, just the way I like you. I grab your balls and squeeze. Without hesitation, you beg, "Harder Mistress Koko, squeeze Harder." 
I let go, and you collapse to the floor, gasping. I give your ass a swat and make you get up on all fours. I put on my big black strap-on. After you suck it to make it wet, I slowly fuck your hot boy pussy. I tease you. I  laugh as I fuck you gently and softly. You beg and beg for more. They're tears in your eyes from frustration, as you beg and plead with me, "Fuck me harder, Mistress Koko, Oh please, fuck me so much harder." 
I control your orgasms!  You cum when I make you cum!  
.
Call KoKo @ 1-866-949-5809
Email: AOL/Yahoo-kokowillruinu