You are craving to be inside my panties, not inside my pussy, but actually inside my panties Right, Panty boy?
You know that I have the cutest panties and you know how much that I love to dress you up. You are like my own living, breathing Barbie doll. When I was little, I dressed my Barbie in all sorts of slutty outfits. Now, I get to dress you up and make you look so sexy!
I start you off with a pair of sexy panties. I always pull them up very tight. They look so cute on your ass. I make you prance around the room in just your panties and black high heels.
I dress you from head to toe. You look so sexy, so ready to play. Just look at yourself in the mirror. Take in every detail. You look amazing and I love your cute curves.
I think we need to show you off, it's not fair that only I can see how fantastic you look. Let me make a few phone calls.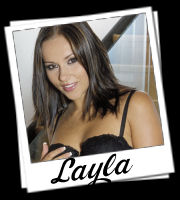 Written By: Layla
Call  Layla @ 1-877-470-3643
Email- klassylayla@aol.com