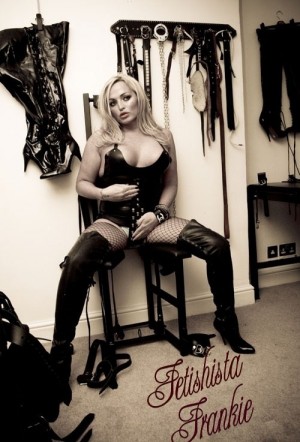 Welcum to my world of pain and pleasure. You're late, and that annoys the fuck out of me. Do you think I have all day bitch? Look at all my pretty, shiny, leather toys. Get on your knees and kiss the heels of my boots. Oops, did I accidentally kick you in the face and knock you over?
Eyes away from me, and on my walls. Look at all the lovely fucking implements of torture. Pick three items from the wall, and of course you know my boots will be part of it. A blindfold, spiked belt and a flogger. Perfect choice, my pain slut. I can see the bulge in your pants, and that is not acceptable. It is not my fault you actually have a big, thick cock and trophy balls. Not my problem. 
Time to strip for me, and do it slow. Even a twisted bitch like me loves a good, slow strip. Now, put on your blindfold. On all fours as I guide your head into the guillotine. Stop begging, you pathetic loser. You know the guillotine could be fake, or the blade could chop things off. You wail, beg and cry as I flog your  back, legs, balls and cock. I hate to disappoint you, but the fucking belt just isn't working for me. Your ass looks completely fuckable spread out like that. I believe it is time for me to use my huge strap-on. I promise it will only hurt for as long as I desire.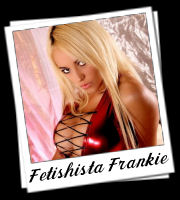 Written By: Fetishista Frankie
Call Frankie @ 1-866-949-5818
Email- fetishfrankie@aol.com