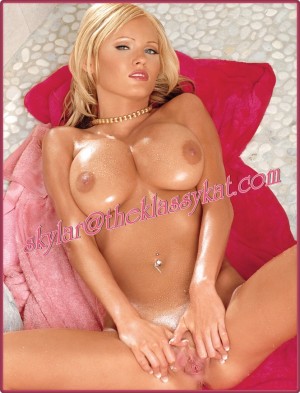 It is a perfect summer afternoon. Your work is done for the week, and now it is time play. You work hard! Don't you deserve an exceptional erotic treat?
Admire my curves. I am so hot and ready to play. Run your hands over my big tits and kiss me all over.  You are getting me all hot and wet. I moan with delight. I start to pull my panties down, but you want to do that. With your face inches away from my pussy, you slowly pull my panties down exposing my delightfully delicious pink pussy.
Now dive right in between my legs. My hips are open, and my pussy lips glisten with my love juices. Run your tongue along the walls of my swollen pussy lips. Such a wonderfully fragrant and sweet treat. Slip your hands under my ass cheeks and lift me to your mouth. Let those luscious lady juices drip into your mouth. Stimulate that sexy clit with your tongue. Orally pleasure me. Your magical tongue licks inside of my pussy making me hotter and wetter. My hips thrust, and I gasp. You have me so close to cumming in your mouth. Finish me off and let that sugar rush all over your face.  
Your Hot and Sexy Girlfriend,
Skylar