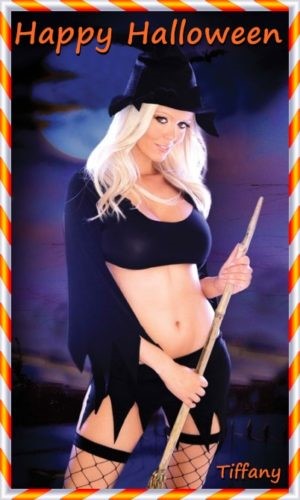 You are mine. You belong to me, and I own every part of you.  Your sexy mouth is perfect for kissing and sucking. Your nipples are mine to lick, suck and bite. Your fine muscled ass cheeks are so very biteable. Your balls need my firm hand, teeth, and  pointed red glossy fingernails. Your tight pucker is just waiting for my tongue and my sexy girl cock.
For me, all of October is Halloween. Why celebrate one day when you can party for 31?
I'm out with the girls at my favorite club. I give you instructions while you wait for me. I arrive home and find you on our bed. You're nude, smooth and anxiously waiting for me. You slowly remove my clothes, then you service my very wet pink pussy for hours. Your lips taste like my sweet juices.
My hands glide up your arm as I restrain you to our bed. You're helpless and all mine. Your balls are tender from my lips, teeth and fingernails. Your nipples are sore from my biting. You're begging me to let you feel my tongue and then my girl cock. You're on your back with your legs up, our eyes locked on one another.
31 days of Halloween. What will we do for the other 30 days and nights?
.
Call Tiffany @ 1-866-794-8175