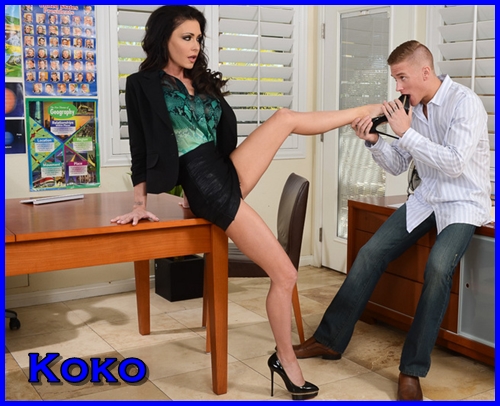 You have a new substitute teacher today.
Ms. Koko is unlike any other teacher. Her legs are so long, her heels so high, her skirt so short. You think that she is going to be a pushover and you will have an easy day; however, that is not the case. Ms. Koko demands respect and complete obedience. You are frightened but turned-on at the same time. There is nothing to do but submit to Mistress Koko! 
You are transfixed by her beauty and her dominance. She radiates power. You are her willing student anxious to learn everything that Ms. Koko has to teach you, in and out of the classroom. You are seduced and aroused. Amuse Ms. Koko by pledging your loyalty and devotion.  Ignore the outside influences and express your submission. Drop to your knees and worship her gorgeous body. Start at her feet and work your way between her legs. 
Good Boy, that is where a sexy little submissive belongs, right between his Mistresses Koko's legs! You will be drenched in my wetness and womanly juices. Now, truly prove your devotion and place your face between my cheeks. 
Call KoKo @ 1-866-949-5809
 Message on AIM-kokowillruinu