Kinky Sex Games!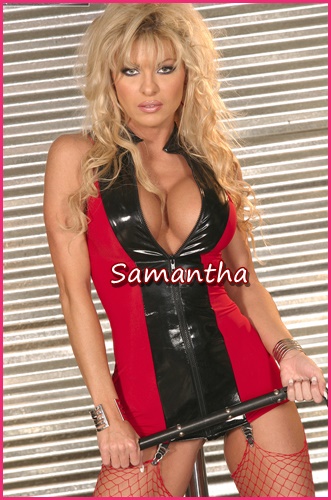 It starts with a bored, horny housewife reading erotica and a trip to a fetish sex shop on the north side of the city. I purchase a black and red leather dominatrix outfit along with numerous sex toys and low-temperature sex candles. I take a luxurious bath to get me in the mood. I do my hair and makeup. I have a stern and severe but erotic look. I like it. The transformation from trophy wife to hardcore mistress is incredible. 
My husband is on a business trip, so it is the perfect night to play! You have instructions to park your car on the street and come in the back door. The door is unlocked, and I am waiting for in my basement. 
Once you reach the bottom step, you see me. I am one hardcore housewife ready for a kinky BDSM session. Fifty Shades of Samantha! I make you strip in front of me and crawl on your knees. You kneel in front of me. You are smiling; you like the game so far. I make you kiss my boots, and then I kiss you on the lips. I take you to a bench and tie down your wrists and ankles. You can't move. I pull out various vibrators and use them on your cock and balls. Next, I lube up your ass and put a vibrating egg inside of you. I lick and softly bite your nipples. You beg me to fuck you, but I give you balls a playful squeeze. Instead of fucking you, I light one of the candles, and you watch the wax melt. I pour melted wax on your body. I peel off the melted wax.
My pussy is throbbing, dripping wet. I don't have any panties on, and my juices have made my inner thighs wet. I am ready to fuck you. I rub your cock with my warm hands. You are so hard. I push the egg in a little deeper. It hits that inner erotic spot inside of your ass. I climb on top of you and fuck you. You pull on your restraints, but you are mine. You still can't move. Ride you with my big tits exposed. Ride you until we both cum, two fucking intense orgasms.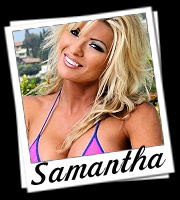 Written By: Samantha

Call Samantha @ 1-866-949-6896
Message on AIM-sexysam4phonesex