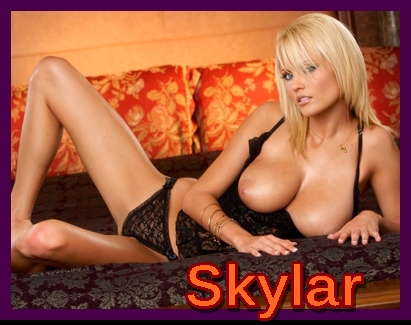 You need a girl like me.  I love to play and make you feel good. 
Let's run around all day! Driving with the top down, your body near mine at the beach or the farmers market. We find a quiet spot for a quickie. I am wild and uninhibited. You need an adventuresome girl like me! 
When your days get dreary with traveling for work and the stress of the day gets you down, you need a girl like me. I can make you cum better than your wife. My laugh makes you smile, and my voice makes you hard. I always make you cum. 
Love to dance, drink, party and play. Flirting and seducing you! Grinding up against you and showing off my big, sweet breasts, making my nipples hard. You know you want to play with my sexy tits. Sweet seduction and so much more. Let's get between the sheets late at night. You will always find my pussy tight.
I always keep it fun. Dive between my tits, kiss my lips and fuck your hot sexy girlfriend!
Don't keep my hot, sweet pussy waiting, Sexy!
Call Skylar @ 1-866-325-1858
Email- yournaughtysky@aol.com