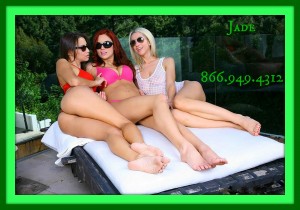 I went over to my friend Michelle's house. Michelle is a blonde bombshell and super fun. We've been friends since middle school.
Michelle invited her friend Abby over too, and she was already there when I arrived. The two of them were sipping margaritas and laying on a big chaise lounge. "Woohoo! Jade's here!" Michelle said as I opened the gate and walked into her yard. "Come join us! It's Sunday Funday!"
I pulled my little cover-up over my head and tossed it over a chair. Michelle handed me a drink, and said "Well, look at this. A blonde, a brunette and a redhead sipping margaritas together poolside!" I tasted my drink. Michelle wasn't fucking around… the tequila went right to my head. Michelle took my hand and pulled me over to the chaise she and Abby were sharing. "Jade, Abby and I were talking before you got here about how horny we are… and she…" Michelle paused and lowered her sunglasses and looked me in the eye, "Well, Abby said she's always wanted to eat me out, and I really want her to. She didn't have time to do it before you got here, but… would you mind?"
As Michelle was talking, Abby had started playing with my nipple. She was running her finger over my bikini top, and it felt good.
"Michelle," Abby said as she pinched my nipple, "I have a better idea…. let's all fuck!"
Michelle's mouth found mine and she kissed me. Abby pulled my bikini bottoms off and slid her tongue into my pussy and started licking and fingering me.
I don't know what was in those margaritas besides tequila, but I think I'll have another, lol.