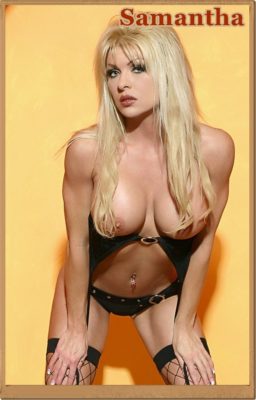 My husband wants me to look sexy and be his arm candy, his trophy wife in public, but let's face facts. A woman like me was never meant to be chained to a stove and be a demure, faithful wife. PTA Meetings and Pampered Chef parties were never in the cards for me. I was born wild and have strong desires for sex. I need a lot of sex. Lucky for me, I am not a 1960's housewife. They would brand me deviant and a nymphomaniac. Sleeping around, cheating on my husband is my one and only hobby. 
I have the freedom to fuck you and any other man I want. My husband ignores my sexy hobby because he wants me to be happy. Happy Wife, Happy Life. He loves how his business partners look and lust after me. They are not my type. I like real men who want to fuck hard. I want a man who is not afraid to get dirty. 
Finding men to seduce is exciting. I am excellent at the art of seduction and know how to leave a man always coming back for more. 
Call Samantha @ 1-866-949-6896
Email- sexysam4phonesex@aol.com