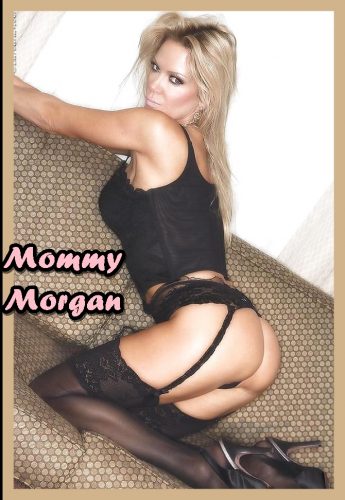 As you are walking into the house, you pick up a UPS package next to the front door. You bring it inside. Looking down at the return address, you see Mommy Morgan ordered something new from Victoria Secrets.  You can't help it, but just looking at that label makes your cock twitch. You find her in the kitchen, and you hand her the box. She thanks you, sets the box down on the counter and continues to make dinner. 
WTF? Why is she not as excited as you are? You ask her if you can open the box, and she tells you to do your homework. You cannot concentrate on math knowing that something special is inside that box.
Mommy calls you to dinner. The box is still on the counter. You ask her what is in the box and she asks you if you washed your hands. 
You roll your eyes and wash your hands in the sink. During dinner, you are a tenacious little brat. You are relentless and ask a dozen times for Mommy so show you what is in the box. 
Mommy spoils you, so it is hard for her to say no. You wear Mommy down, and after dinner, she models for you. She wears her new very sexy black lingerie for you. 
Hugs and Kisses,
Mommy Morgan
Call  Morgan @ 1-866-307-4657
Email: callmommymorgan@aol.com