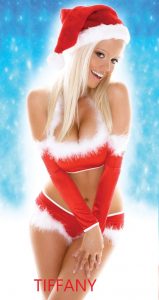 Happy Holidays! It's that special time of the year when we spend time more time than ever with our loved ones. That can be rough especially when it's family time. I don't know about you, but I always need some quality time with my vibe before visiting.
That MILF next-door, the adorable nieces, the Auntie's that looks so much like your actual mom. All the naughty possibilities. We should get ready for visiting together. Before I slip on those tiny black panties, my sexy red dress, and red stiletto's, lets get nasty.
Who will I be for our time together? The sexy MILF, your school age cousin, or maybe just maybe you're in the mood for a big sexy cock. I know I am!
Many holiday festivities began early and go late. Email me if  you need to play extra early or late. I adore all my guys, and would be happy to oblige if possible.
          Happy Holidays, Love and kisses Tiff
.
Call Tiffany @ 1-866-794-8175