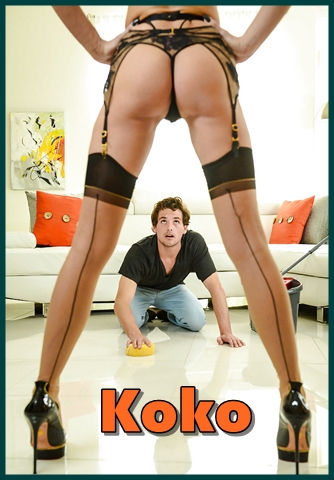 My houseboy is scrubbing my floors on his hands and knees.
"Bitch, you missed a spot." Point it out with the toe of my black high heels. "Stop apologizing. Kiss my shoe and scrub the floor."
When you are done with the floors, it is time to assume the position. Get on all fours, with your cheeks spread and your nose and lips touching the floor. "Bitch, I bet that you are grateful that you the floors are now immaculate. Finger your ass! "
The toy door opens. I put on my big black 10-inch strapon. I spank his ass. "Start sucking." I grab a fistful of his hair, and harshly fuck his mouth. Rough face fuck! Make him choke and gag. This is punishment, but my bitch loves it rough and nasty. Get my toy cock wet. You know where it is going next! 
Yes, I fuck my bitch's ass! Hard and rough! I fuck his ass until he cums on my floor. "Lick it up, Bitch!"
I force him to eat his own cum.
Mistress Koko