I know that you would do anything for me. I also know that you're really curious about what it's like to suck a big, fat cock. Sometimes when you jerk off, you close your eyes and imagine that I am guiding a dick right into your mouth. I've been waiting to walk you through your first cock sucking experience. By the time I am done with you, you're totally going to be a cock sucking expert. Sure, maybe you won't suck all the time, but when you do, you will be the best cock sucker.
I know that you're nervous, but every bitch boy is at first. I know you're going to do everything you can to keep your Goddess happy. So, just stick out your tongue and run it all over the head of that dick that I feed you. Wrap your hand around it and start to stroke it a little bit, keep licking. Now, open up real wide and I'm going to push your head right down onto that big cock. I know you'll love that final taste of cum.
Remember, if you do everything you're told I will reward you with my pussy sitting right on your face.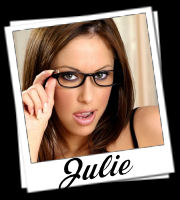 Written By: Julie
Call  Julie @ 1-866-949-4110
Message on AIM- jerkit4jules