I love that my loving husband surprises me with a weekend getaway to Vegas. He books 3 nights at the Bellagio. He said we're going to gamble, relax by the pool, fuck, have a spa day, fuck some more and a night out at one of the hottest Vegas night clubs.
Our first morning there we slept until noon, made love and went to brunch. After that, we decided to hang out by the pool. Before our trip, I bought a really cute bikini that I was dying to wear down by the pool and I knew it would make Chase rock fucking hard the whole time.
When we got to the pool area, Chase jumped right in and I decided to lay out first on the lounge chair. I noticed a very attractive blonde on the other side of the pool. She was so stunning that I had to drop my shades to get a better look at her. She was wearing this hot pink bikini and her tits looked amazing in it.
While I was pretending to read a book, I kept my eye on her and I knew Chase was checking her out as well. She finally got up and she adjusted her suit, I noticed a big budge in her bikini bottoms. I knew right away this wasn't a "girl" I had the hots for.
Chase got out of the pool and sat down next to me to lay out in the sun. I told him what I saw and not only did he get excited but he went over to talk to her. Next thing I know, they both walk over to me and say we're going to have a little fun in our hotel room.
I love that Chase is so open to anything. Not only was I attracted to this chick with a dick but so was he. We knew we wanted to fuck her. I couldn't wait to suck her luscious tits and big cock while my husband was fucking her man pussy.
I love Sin City!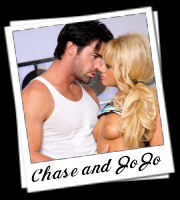 Written By: JoJo
Call Chase & Jojo @ 1-866-949-5816
Email: chaseandjojo@aol.com