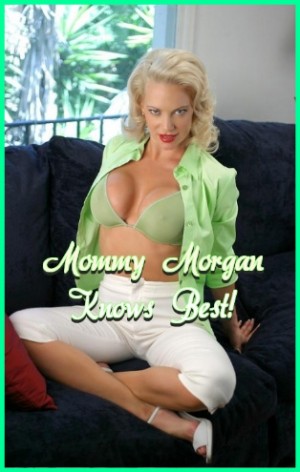 Mommy Morgan knows what is best for her boy. He got a little naughty on St. Patrick's Day and needed to be punished. A little humiliation helps him remember that Mommy is always in charge. 
We have ancestors from Ireland, and we celebrate our heritage in the most fun ways in our family. I invite the entire family over for dinner. After dinner, there will be dessert and game night. I make homemade soda bread and Dublin Coddle for dinner. Since it is a special occasion, I allow my boy to have some of grandpa's Irish Whiskey, which makes him forget his manners.
In the middle of dinner, he asks me if I am wearing a green bra and green panties. I give him a look and scold him.
After dinner, the ladies clean the kitchen, and the men relax in the front room. I pull my naughty boy into my bedroom. I unbutton my blouse and show him that I am indeed wearing a green bra. I explain to him the historical significance of wearing green on St. Patrick's Day. 
Now, as his punishment, I force my boy to take off his clothes and put on my green panties. Once he is wearing them, he has to go into the kitchen and show his aunties that he is wearing green panties. They laugh so hard as his young cock grows and squirts into the pretty panties. 
Happy St. Patrick's Day, Panty boy!
Love,
Mommy Morgan 
Call  Morgan @ 1-866-307-4657
Email: callmommymorgan@aol.com