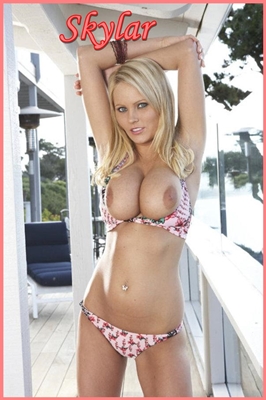 I am visiting my best girlfriend. She just moved to a new apartment, and I help her unpack boxes all morning. By lunch time we need a break. We slip into our bikinis and sit on her deck. Her boss calls her, and she heads inside to her computer. She composes the document that he needs to have done right away. 
While she is gone, I see you on your deck next door. You must work at home. You are staring at your lap top with your fingers on the keyboard. I want to get your attention. I think you are cute! I stand up and flash you my naked tits. Now, I have your horny. I see your hand unzip your pants. You stroke your cock while I rub and squeeze my natural D cup tits! My friend comes back outside. She likes your cock!  She starts rubbing and sucking on my tits. My fingers slip inside her bikini bottom. We are putting on a hot show for you! We are two very naughty exhibitionists! 
Get up and join us for a threesome! 
Call Skylar @ 1-866-325-1858
Message on AIM-yournaughtysky