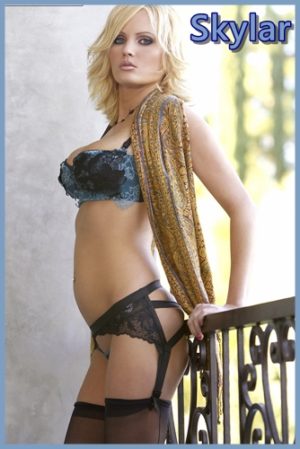 I surprise you by sending you a text while you are still at the office. Usually, you don't want me to bother you at work, but today you don't mind. I send you a picture of my new  Victoria Secret's lingerie and ask you to leave work a little early. I have a romantic dinner planned on the balcony this evening. 
You text me back asking if I will be wearing the new lingerie when you arrive. I text back saying that I have on a short dress since we are having dinner on the balcony. (I am wearing my sexy lingerie under my dress, but I will share that with you after dinner.) It is such a perfect day that we should eat outside tonight. I entice you to leave now with some hot sexting. Usually, we wait for the weekend to spend time together, but it is always fun to have a sexy midweek date.
After dinner, we enjoy a second glass of white wine. The sun will be setting soon. I bring out a cherry tart from a bakery down the street with two forks.  I take the first bite and make this cute little "yummy" noise. I take a second forkful and feed you the delicious, decadent dessert. I feed you another forkful and then slide into your lap. We kiss and caress each other. You are even more yummy!
I stand up and slip out of the dress. Let the neighbors call the cops! I need you here and now. I lean back against the railing and pull your pants down.  You push my panties to the side and slip your cock into me, fucking me right here on the balcony.
Love you,
Skylar