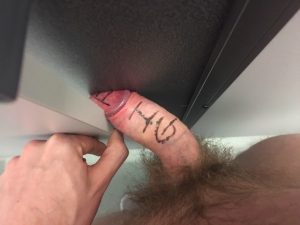 I have a new money piggy, and his name is Jonny T. He is fucking hysterical! I end every call and email with "now, fuck off". Today I made him open his mouth so I could use him as my human toilet. The thing is, he doesn't just put up with my shit and piss, but he actually loves it!   He even begs for it.
He doesn't talk because he hides in the bathroom stall at work. Instead of talking, he oinks. Piggy, piggy oink oink! I can't help but laugh, I mean who wouldn't laugh?
Today I shit all over his face with my adorable little rosebud pucker. It was in his eyes, nose and stuck in his teeth. Then I gave him a special treat. His tongue in my ass getting my shit loosened me up a lot. So much that I had a big, brown shower for piggy. I wonder if he did that on purpose? I started at his face and went down his whole body. I then made him wank off in my shit. Sorry, not sorry!
While I was using his mouth for my toilet, I snagged his tablet. I made him give me his info, and logged onto his bank. By then he was begging for more shit. I gave myself a huge tip, which he approved because he wanted to eat more of my shit. I am such a bad, bratty Princess!
Hey Jonny, now fuck off!!
.
Call Torrie @ 1-866-415-2934
Email- teentorrie@aol.com