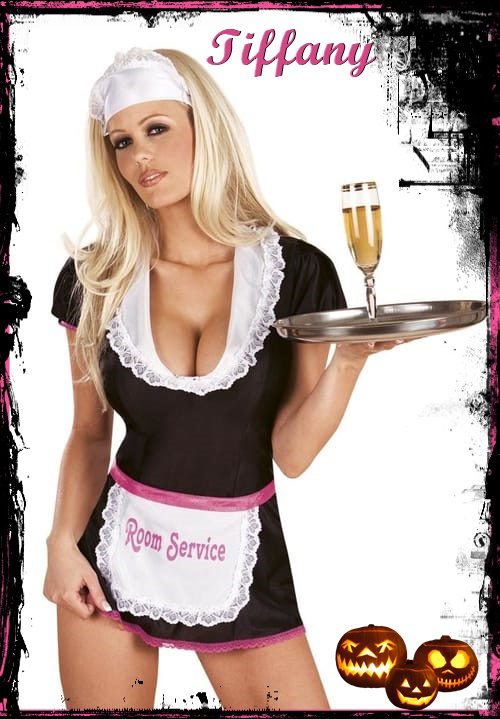 Happy Halloween! I love Fall, and a reason to wear jeans, high boots, a tight top and leather jacket. Not tonight, as I am invited to help host a party at my favorite strip club. It is an after hours party, so don't fear as your favorite blonde bimbo will be here for the rest of the night. I know many people party early so they can get to work on time the next day. Not this girl! I love being able to talk to my guys and then off to a party. I thought it would be fun to wear a waitress outfit which was just a bit too small for me. I love the way my 36 DD's look in something way to snug.
Everyone who knows me, knows I love to party. Why wait for after midnight when my friends can come over while I am on the phone. I am putting my costume on, and sipping some Jack on the rocks when there is a knock at my door. I have to say, my mailman is fucking hot! I am his last house for the day so I offered him a drink. We toasted to the season of holidays. Halloween, Thanksgiving and Christmas. 
He couldn't take his eyes off my cleavage, but then who the fuck can? I began to wonder for the hundredth time, just how big his dick is? I began to imagine giving him a sexy titty fuck. I could feel my pussy gushing at the thought of it. As we drank, he stared at my tits and me at his growing bulge. Looks like a pre-party fucking!
Call Tiffany @ 1-866-794-8175
Chat on Google Hangouts: blondebimbotiffany