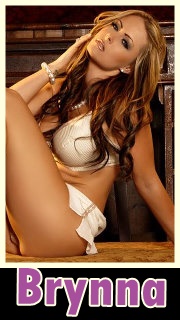 As I took off my dress, I could see that look in your eyes. I had complete control of you. Not that you were lusting after my body, but instead you were envious of gorgeous new lingerie.
You were born a sissy, and you love slutty things. I tease you and taunt you into slipping into a pair of black fishnet stockings, hot pink thong and matching bra. I force you to stand in front of the mirror and describe what you see. You feel as slutty as you look. Whispering in your ear, I tell you that you look too slutty not to be noticed by horny guys with big dicks. 
Your sissy clit throbs in your thong. I really turn on my wicked charming ways. I describe big cocks for the taking. You become flushed and beg me to pimp you out tonight. You want to be forced down to your knees. Cock after cock between your ruby red cocksucking lips. 
I take you to the local pool hall. All men, no ladies, except for me and you, sissy. The men line up for you! 
You are one hot slutty cock sucking sissy! 
Call Brynna @ 1-866-511-5538
Email- Aol/Yahoo: badgirlbrynna