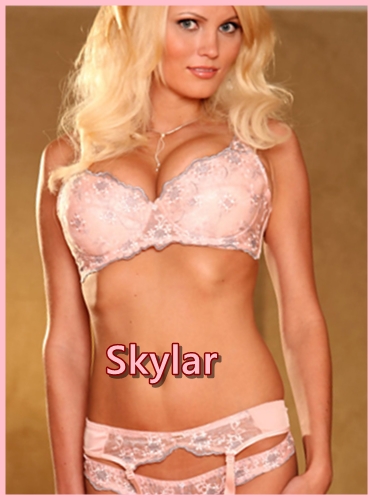 You and have have been dating for a few months. I think it is adorable that you are so turned on by my panties.  In the morning, you like to leave with my sexy panties from the night before in your pocket. I expect this cute little interest in my panties to wear off soon enough. 
Until one day, I open my bedroom door, expecting you to be taking a nap, but I find you wearing my pink lingerie.  Not just my panties, but the matching garter and pink stockings. You have on my bra stuffed with socks to fill it out. 
Wow, I am shocked, but I guess looking back at your interest in my panties, I should have suspected that you are a pantyboy.
Now, what do I do with you? Admittedly, you do look good in my lingerie. Your big hard mushroom head sticking out the top of my panties is really sexy, a big turn on for me. I always thought pantyboys had little dicks.
I change out of my yoga pants and sports bra for something as pretty as you. I have tons of pink lingerie. I put on another set of my pink lingerie with black lace topped thigh highs. We hug and kiss.  I run my fingers through your panties. I kneel in front of you and kiss your cock right through your panties.
We stumbled into the bed with our bodies. entangled together. We both push our panties to the side and you slip your beautiful big cock into me, pantyboy. Yes, we both fuck and cum together as we wear our pink lingerie.
Call Skylar @ 1-866-325-1858
Email- yournaughtysky@aol.com