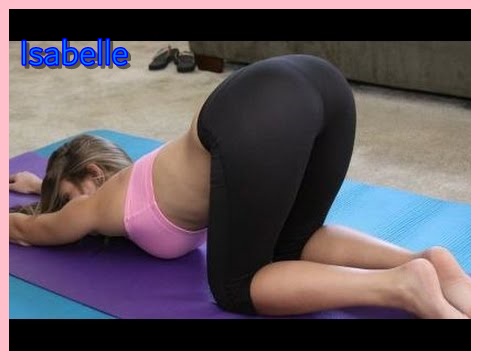 It is late. Technically, the gym in our building is closed, but the Security Guard left it open for me for an extra hour tonight. Constant teasing him about keeping my booty in shape for him, makes him weak and bend the rules for me. 
As you are getting your mail, you notice the light on and music coming from the gym. You look inside and just at the moment, you catch me doing a stretch, with my big butt facing you. You recognize me by my butt and say hello. I turn to greet you. You like me a little sweaty. You feel your cock growing, and you place your mail against your hips to try and hide it. By trying to hide your hard-on, you are actually just drawing more attention to it.
I ask if you would help me stretch out. Your face is blushing, your cock is hard, but you cannot resist any request for a pretty girl. I spread my legs open as far as I can.  Pull back and count to 10. Hold my leg to stretch out those muscles.  Now the left leg. Pull and hold! Oh, I let out such a loud moan as you stretch me. You are staring at the wets spot between my legs of my yoga pants. You are hot and dazed. When you let go of my leg, I see the agony in your eyes and the head of your cock making a wet spot on your pants. I lean up and undo your jeans.  A huge, hard wet cock pops out and smacks me in the face. I giggle and then suck you until I drain you. Now it is your turn to moan as you cum.
Call Isabelle @ 1-866-704-9517
Message on AIM-
       isabelleisgoing2rockurworld