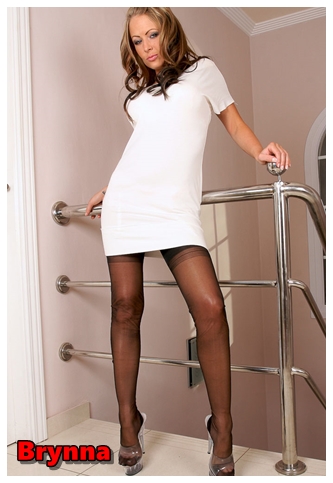 It started like any other night out. I wore a sexy little dress and met my friends at the bar. I was surrounded by some very good friends, and my friends had invited some of their very good friends, so I had a chance to meet some new people. My boyfriend brought the new guy that moved in across the hall.
There was a lot of laughter, drinking, and a little bit of flirting. Everyone was having a great time. I left my car in the lot and spent the night with my boyfriend. His new neighbor rode back home with us.
We got out of the car, and we walked up the stairs to the second floor. My boyfriend was holding my hand, and the new neighbor was behind us. As I got to the top of the stairs, the neighbor told me to keep still.  He was standing near the top. He reached over and pulled up my thigh highs. It was hot to have his hands on my legs, under my skirt. I looked at my boyfriend. Was he going to punch this guy for touching his girl?
Instead of being jealous, I could see my boyfriend was excited. My boyfriend invited his new neighbor over to join us. My boyfriend suggested that I sit on the neighbor's lap. The neighbor started rubbing my leg as soon as sat down. All three of us were ready for anything by this point. My boyfriend unzipped his pants, and his big 8-inch cock was hard and dripping. I thought he was going to want me to suck it, but he offered his cock to his neighbor.  The neighbor took the cock and sucked it. The night quickly turned into a sexy, hot threesome!
Call Brynna @ 1-866-511-5538
Message on AIM-badgirlbrynna