I'm extremely attracted to my boss even though he's kind of a arrogant prick at times. He flirts with me but he's always been professional.
The other day I was in a naughty mood in all aspects. My boss comes in the morning and announced he was leaving early because he was going to surprise his wife and take her out to dinner at a 5 star restaurant for their 10th wedding anniversary. He wanted me to order her 10 dozen red roses and I even left with him on my lunch break to help him pick out a diamond bracelet for her.
I looked at the clock and noticed my boss hasn't left yet, it's 30 minutes past the time he wanted to leave. I went to go check on him and he was finishing up quarterly reports and seemed highly stressed. I told him to call his wife to let her know he was running a little bit behind.
While he was on the phone with her, something came over me and I decided to rub his cock. He saw I had a naughty little grin on my face and he turned bright red. While my boss was saying a lot of uh huh's and yep's, I got down on my knees and took down his pants and sucked his cock. He could barely keep it together while talking to her. By the end of their conversation, he said he was going to be even later than he thought. He hung up the phone and lifted me up onto his desk and slid off my black panties and ate my pussy till I came all over his face and important papers.
He then lifted me up again and I wrapped my long legs around him and he slid me down on his hard shaft. He fucked me so hard and gave me a huge cream pie. I thought he was in a hurry to leave but he wanted to still play around some more. He said he won't be getting this later from his wife so he wanted to make his 10 years of marriage extra special.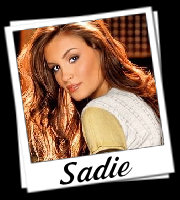 Written By: Sadie
Call Sadie @1-866-995-4747
Email: AOL/Yahoo-sinfullysadie