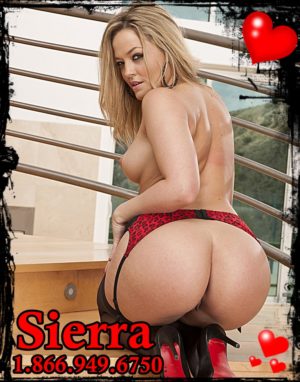 This ass and this pussy was made for fucking and this holiday I'm going to let you have your way with me.
The night started off sexy. You bought me candy, flowers and a cute stuffed teddy bear. It was a sweet gesture but I could care less about that shit. The lingerie you picked out was pretty hot, it doesn't ever stay on me for very long.  All I really need from you is a hot night of fucking.
You lay me down on your bed grabbing my ankles pulling me to the edge while you look me in the eye. You start to run your hands up and down my legs making your way to my juicy ass. My legs slide around your waist nice and tight. I demand you to fuck my holes hard and deep. I know you won't disappoint me since I'm letting you do anything you want with me. I clench my teeth while my pussy throbs. I can feel it building up, letting my juices flood your massive, thick cock. I grab a hold of my tits squeezing them together. Moaning out to fill my pussy with a creamy thick load of jizz.
Call Sierra @ 1-866-949-6750
Email- tastemysierramist@yahoo.com