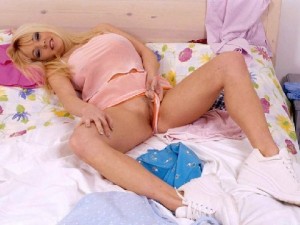 I walk in to the little boys room looking for my student who had been gone entirely too long from class.  As I walk in I glance straight ahead and see him standing up at the urinal.  He isn't peeing though, his eyes are closed and he is jacking his little penis.
Well I think it is little, or should be, but as I turn towards him I see he has a big cock for being so young.  I stand there flabergasted.  I mean he is very young, but has a dick as big as most men have.
He suddenly opens his eyes and looks right at me.  He looks really embarrassed and turns away a little but doesnt stop what he is doing.  I walk closer to him and look him right in his eyes as I reach down and move his hand off of his dick and replace it with mine.  I start strokin him and he is just staring at me.  He then asks me if he can see my boobies.  I unbutton my blouse and pull them out of my bra and then go back to stroking him.  He asks if he can kiss them and I nod yes.  He leans forward and sucks on my right nipple, and as he does he groans really loud and shoots his load all over my hand.
I wash my hands and turn around and walk out of the boys bathroom.