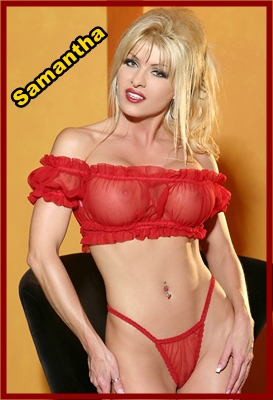 Whether you are young or old, still in college, or maybe you work out at the local gym. You are in awe of the hottest MILF in town, Samantha. You would be willing to do anything, give up anything to be her boy toy. Her body is so fine. Her big boobs are perfect, and her legs are long. Samantha's personal trainer works with her five days a week to maintain the tight body of hers without losing her big sexy, mature curves. 
It is her lips, always painted a shade of red, that make you think such lustful thoughts. You fantasize about your cock between those red lips.  She is completely irresistible. You adore her and want to worship every inch of her body! You know you can fuck her better than her husband. Make her scream in ecstasy. Give her countless orgasms. 
Every man in town wants her and cannot takes his eyes off her curves or her mouth.  You desire to spend some time with this horny housewife. Samantha is the perfect blonde Goddess, and you can be her willing, devoted love slave. 
Call Samantha @ 1-866-949-6896
Email- sexysam4phonesex@aol.com