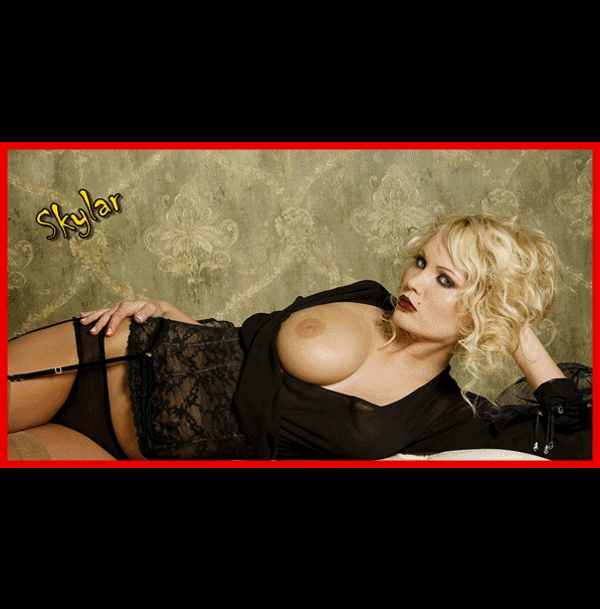 It is Halloween Night! Time for a Halloween Tale for my favorite boys. Hope you enjoy!
It is close to midnight and someone wicked is lurking in the shadows behind you. You turn your head. There is a voluptuous lady dressed as a vampire behind you. Is she stalking you? Her beautiful piercing blue eyes stare right into yours. Are you her target for the night? You try to say hello to find if she is friend or foe, but this exotic creature cannot hear your words as the dance music is too loud. You stand frozen unsure of your next move.
Wait! She is obviously interested in you. She approaches you. She commands the room and makes her way towards you. You are a marked man! Do you have the guts to ask her to dance? Can you impress a girl like this? Can you thrill her?
Lucky for you, she makes the first move. She is standing right in front of you as the song ends. She puts her warm hand on your shoulder, leans in and speaks, "Hi, I am Sky. Great Party, huh? Did you come here with someone?"
Oh, Skylar is very interested in you. You are speechless, you shake your head no, indicating that she has found you all alone tonight. She flashes a wicked, sexy smile. You are falling for her. She seems happy to have found her possible next victim to put under her spell. Now the game of seduction really begins. Our girl, Sky, is out on the prowl tonight.
She is carefully skilled at the game of seduction. Our huntress is dressed all in black which contrasts very dramatically against her pale white skin. Can any man resist her curves and her devilish, seductive ways?
The dance music starts again. Everyone in masquerade rushes to the dance floor. There is no escaping her grasp as she takes your hand and pulls you onto the dance floor. Her body moves to the music. Her moves are mesmerizing. You are transformed and feel yourself falling for this girl. She has caught you in her seductive web. There is no escaping her enchanting curves. You want her. You want to thrill her.
The night is coming to an end. Do you have the balls to ask her back to your house? You want to thrill her in your bed.  Give this beautiful creature of the night the fuck she craves? Thrill Her!
You hold her close during a slow song and serenade to her.  You sing all the words of an erotic love ballad into her ear. At the end of that song, you lead her off the dance floor and buy her a cocktail at the bar.  The time is now! Make your move before it is too late.
Timing is everything. You hold her hand, look right into her eyes, "Sky, now is the time for me to show you my best moves. Come home with me and let me ravish every inch of your body. I want to make you cum and cum until the sun rises."
No sexy girl can refuse such prophetic and chilling word. Skylar is so hot and so wet.
You thrill her!
Just a haunting little Halloween tale for you to enjoy. Be happy and safe tonight. If you happen to end up alone on this naughty Halloween Night…give me a call and let me thrill you!
Skylar